My Running
I started serious exercise some years ago after being diagnosed with type 2 diabetes and diverticulitus in the same week- control for both is diet and exercise, so I lost some 35 kilos and started going to a free, local council-run program called "Fitness in the Park." After a few years I started running to supplement fitness in the park- now I mainly do middle-distance running, supplemented occasionally by fitness in the park. My main distances are 5 and 10k, with the odd half-marathon to stop me getting complacent. The photo is after my first-ever half-marathon at the Launceston Running Festival in 2018, at the age of 69.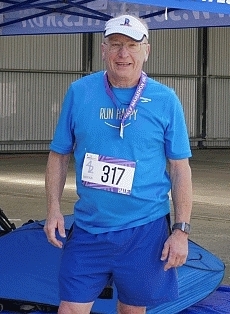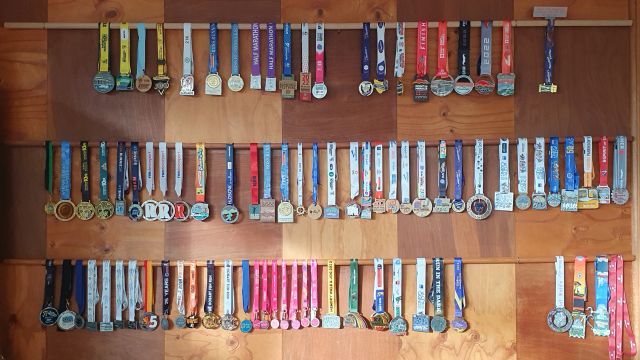 ---
My last 5 activities on Strava
My Overall Strava Stats
---
My parkruns
In January 2016 my step-daughter introduced me to parkrun, https://www.parkrun.com.au/, a worldwide, free, timed, non-competitive, weekly 5k walk/jog/run.
Point to note- when referring to the event, parkrun always starts with a lower-case p, never an upper-case P, even at the begining of a sentence.
You may notice some of my times are around an hour- these are when I volunteer as Tailwalker, whose job is to be the last person on the course, to carry a first aid kit, and act as first responder to take care of any problems that may occur during the run.
Or when I pick up the occasional injury and have to revert to walking and/or using the deadly treadly...
parkrun relies COMPLETELY on volunteers- without volunteers every week there can be NO parkrun. If every parkrunner volunteered just 3 times a year, we would always have enough. Sadly, this doesn't always happen, putting a much bigger load on the people who do volunteer, so please consider giving up just three runs a year to volunteer. The jobs are easy, fun and rewarding, and training for the various roles is given.
Ken JOHNSON (273 parkruns)
My 10 Most Recent parkruns
My parkruns summary
My Volunteer Summary
My Volunteer Total = 57
| Role | Number |
| --- | --- |
| Marshal | 6 |
| Pre-event Setup | 1 |
| Barcode Scanning | 5 |
| Funnel Manager | 2 |
| Tail Walker | 41 |
| Event Day Course Check | 2 |
Number of visitors to this page so far:

home