My Running
I started serious exercise some years ago after being diagnosed with type 2 diabetes and diverticulitus in the same week- control for both is diet and exercise, so I lost some 35 kilos and started going to a free, local council-run program called "Fitness in the Park." After a few years I started running to supplement fitness in the park- now I mainly do middle-distance running, supplemented occasionally by fitness in the park. My main distances are 5 and 10k, with the odd half-marathon to stop me getting complacent. The photo is after my first-ever half marathon, at the age of 70.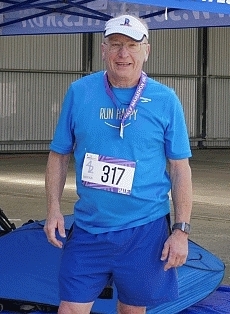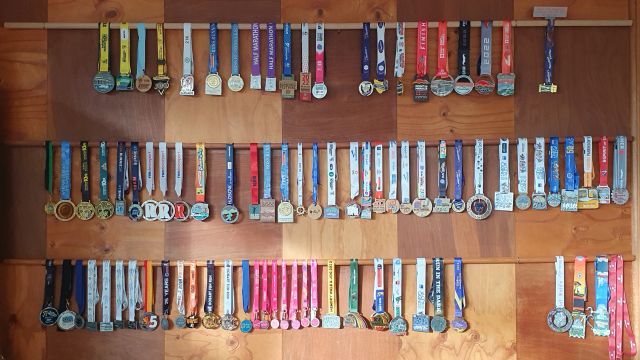 ---
---
My parkruns
In January 2016 my step-daughter introduced me to parkrun, https://www.parkrun.com.au/, a worldwide, free, timed, non-competitive, weekly 5k walk/jog/run.
You may notice some of my times are around an hour- these are when I volunteer as Tailwalker, whose job is to be the last person on the course, to carry a first aid kit, and act as first responder to take care of any problems that may occur on the run.
Parkrun relies completely on volunteers- without volunteers every week there can be NO parkrun. If every parkrunner volunteered just 3 times a year, we would always have enough. Sadly, this doesn't always happen, putting a much bigger load on the people who do volunteer, so please consider giving up just three runs a year to volunteer. The jobs are easy, fun and rewarding, and training for the various roles is given.
Due to the COVID19 pandemic, from March 18th 2020, all Australian parkruns were cancelled until further notice
As of Mid-October 2020, many Australian parkruns have restarted.
December 2020- with my plantar fasciitis now settling down somewhat, I can finally do some limited running
and resume chasing that elusive 250 parkruns t-shirt
Ken JOHNSON (180 parkruns)
Most Recent Runs
Event Summaries
Volunteer Summary
Volunteer Total = 34
Year
Role
Number
of Times
2020
Tail Walker
3
2020
Barcode Scanning
1
2019
Funnel Manager
1
2019
Pre-event Setup
1
2019
Tail Walker
13
2018
Barcode Scanning
1
2018
Funnel Manager
1
2018
Marshal
1
2018
Tail Walker
6
2017
Barcode Scanning
1
2017
Marshal
2
2016
Marshal
2
2016
Tail Walker
1
Number of visitors to this page so far:
.

home