Back on a bike after 20 years!
I bought the bike as a basket case from a friend who was going to fit the engine in an early Honda van, to carry his go-cart around in, it's a 1980 Honda CB900, the old Bol De' Or endurance racer.
The project stalled due to a change in his personal circumstances so I thought I would give it a try for a few months to see if I still enjoyed motorcycling.
After nearly a year I have most of the problems sorted, and am enjoying riding it on fine days (no more wet weather riding thank you!)
It still burns a fair bit of oil in one cylinder, I suspect the rings are gummed up with it being stood for so long.
I joined the Hobart branch of the Ulysses club. Apart from giving me someone to ride with on the weekends, they also know a lot more of Tassie's backroads than I do, which makes the riding much more fun.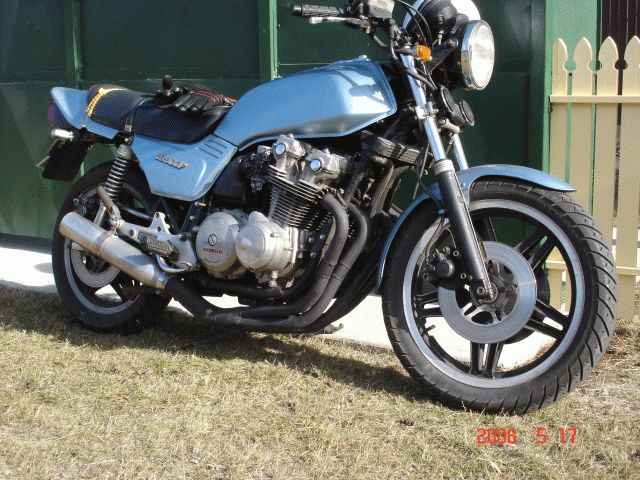 ---
Update July 2008
The Honda is now sold, it has been usurped by a 1987 XJ900 Yamaha which has only done 18,000Kms, does not burn oil, and has a shaft drive- no chain to worry about. I have now done some 2,500k's on the XJ and am starting to feel very comfortable with it.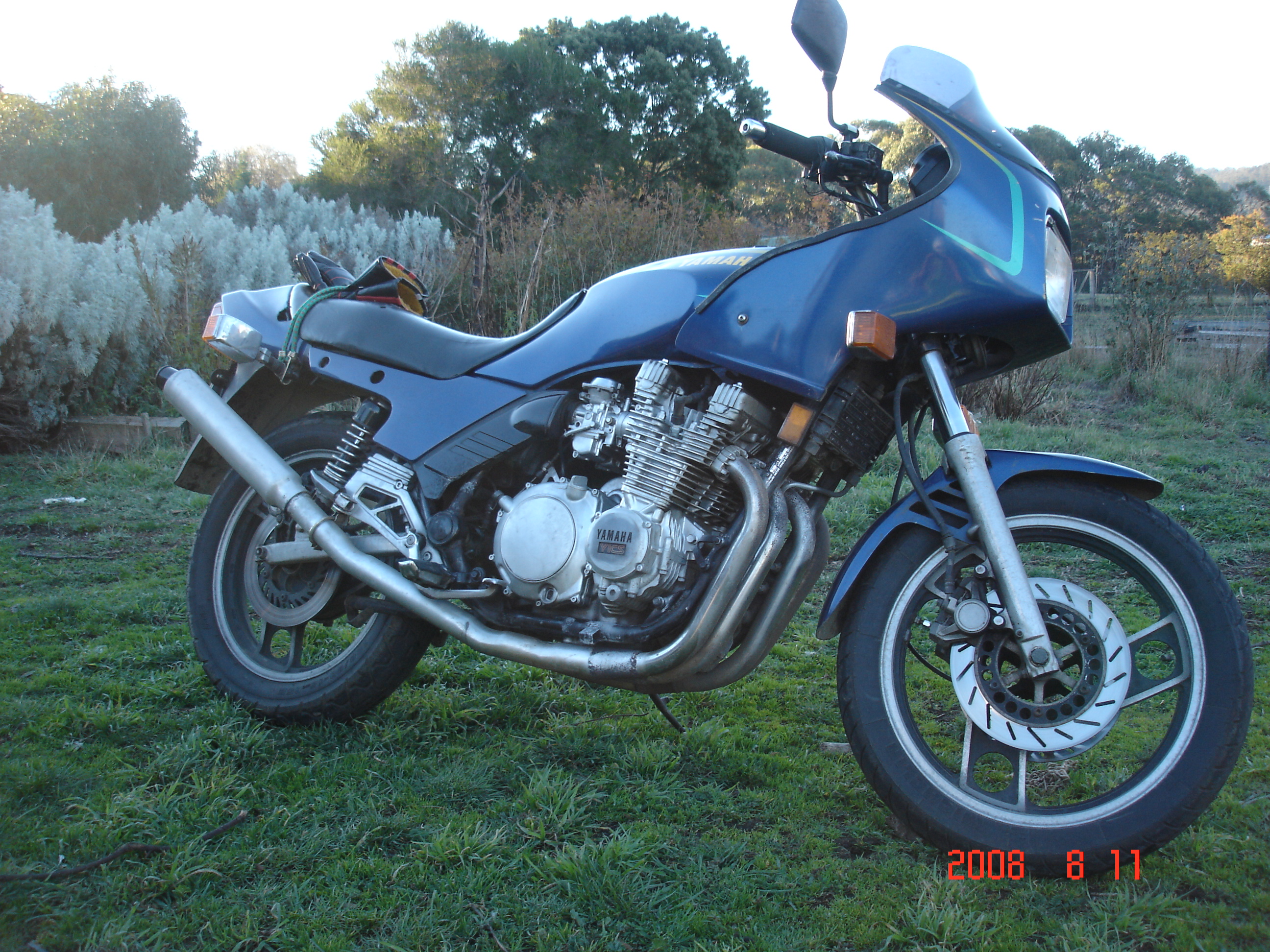 As I am doing a bit of night riding now, I decided to fit a high-intensity discharge headlight to the bike, after a bit of chasing around I sourced a kit from Gerald Mok at Gadgetmaster http://www.gadgetmaster.com.au
I have to say I was very impressed by the service from Gadgetmaster, he answered all my emails very quickly and posted the kit the same day that I transferred the money, it arrived 24 hours later by overnight bag- don't you wish all internet traders were like that!
I have a bit of time off from work in the next fortnight (it's mid-August now) so I will be able to fit the kit and test it out in the next few days, providing the weather doesn't fall apart of course. (well, it is mid-winter in Hobart- it can get a trifle cool and damp at times.....)
Having ridden with the HID light for a winter now, it is brilliant- night riding has never been so enjoyable, it's like riding with your very own patch of daylight in front of you. During the day, in combination with the flouro jacket I wear, it makes it very hard NOT to see me coming- a great advantage for a bike rider. Out on the open road, it has the great effect of causing cars to slow down and pull over when you approach at speed from behind- I think they see the jacket and super-bright headlight and mistake me for someone else- a rather fortunate side-effect of being highly visible..........
Update October 2009 (yes, I know- slack aren't I !?)
There have been some changes once again- I retired a few months ago, so I decided it was time to update- so now I have a 2005 Suzuki SV650. I have fitted handlebar risers and a pack rack to it, the riding position is now much easier on my wrists.
The Suzuki is some 70Kgs lighter than the XJ, and it really shows on the handling, throwing it round the bends is much easier and more fun- now I can stay up the front with the quicker of the guys on a run. The sound from the 90 degree V-twin with the after-market pipe is absolutely glorious, especially on the over-run, takes me back to my Ducati days.
I had to make some mirror extenders, as usual with standard mirrors, they gave a great view of my elbows. I made a couple of longer stems out of some 12mm aluminium- I had to cut the threads in the lathe as Suzuki in their wisdom had used a non-standard metric thread. Unfortunately the aluminium work-hardened and fractured on me on a run- I managed to catch the offending mirror before it hit the ground.
I then used the original stems, cutting them in half and tig welding a bit of 12mm 316 stainless in to extend them. I fitted some black heat-shrink tubing over the new stems to cover the welds, and now I have an excellent view of the road behind me.
As the SV is a chain drive (shock horror- how archaic!) I have also fitted a scottoiler to help keep the rubber band in good condition. There was a convenient bracket under the back seat to bolt it to, and I ran the tubing along the bottom of the swinging arm so it was out of sight. I set the feed to 2 drops per minute, and so far it seems to work ok, not too messy at the back and the chain nicely lubricated. During all this, I also made a paddock stand for it- as usual the manufacturers don't fit centre stands any more (more cost-cutting- like the too-short mirror stems) so I considered the paddock stand a must. You can get a centre stand from Germany, but the cost is around $400 australian, tig'ing up a paddock stand was MUCH cheaper and more fun.
I saw a couple of lugs on the frame under the centre of the bike, so I have been thinking I might make up a lifting stand for it so I can get the bike up to my level for maintainance- watch this space.
Copyright Ken, VK7KRJ.